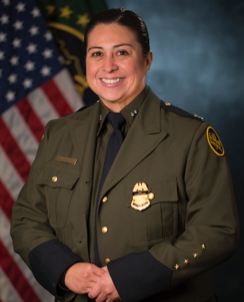 Inside the Government Series Luncheon November 2016
Executive Women in Government (EWG) invites you to our Inside Government Luncheon Series on November 16th from 11:30 am to 1:30 pm. EWG's Inside Government Series Luncheons invites government executives to share insights and expertise about a specific Executive Core Qualification (ECQ). This is a great opportunity to learn, network and enjoy with other executive women and rising leaders.
Our speaker for the month of November is Ms. Gloria I. Chavez, the Deputy Chief for Operations under the Law Enforcement Operations Directorate at U.S. Border Patrol Headquarters in Washington D.C.  She is responsible and has management oversight of all U.S. Border Patrol enforcement operations nationwide.  Deputy Chief Chavez is also accountable for the management, administration, and technical direction of all intelligence programs and initiatives nationwide.  Ms. Chavez has 20 years of federal service.  For her full bio please click here GloriaChavezUSBPbio .
Ms. Chavez will focus on sharing her experience in Leading Change within her career.  
ECQ of the Month: Leading Change
This core qualification involves the ability to bring about strategic change, both within and outside the organization, to meet organizational goals. Inherent to this ECQ is the ability to establish an organizational vision and to implement it in a continuously changing environment.

We look forward to seeing you at our next EWG event!!
Who: Ms. Gloria Chavez
When: November 16, 2016
Time: 11:30 am – 01:30 pm
Where: 1717 H Street  NW, Classroom C,  Washington, DC (US Customs and Border Protection)

Cost Members: $15
Cost Non-Members: $25
SOLD OUT