President's Message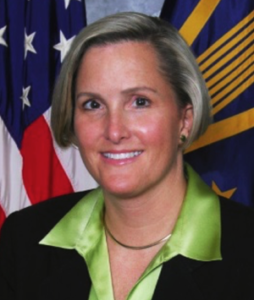 It has been an amazing 6 months since I was sworn in as the President of Executive Women in Government (EWG).  We have a fantastic group of EWG Officers, Board members and volunteers who have dedicated themselves to re-invigorating EWG through an active schedule of meaningful and relevant events – a wide variety of opportunities to learn, network, and enjoy. 
October marked the first Inside Government Luncheon Series event this year with special guest, the Honorable Rebecca Dye, Commissioner, Federal Maritime Commission, who shared insightful best practices and inspiring experiences for leading successfully in a personal and professional environment.  That event was followed by an evening with New York Times' best-selling author and highly acclaimed speaker, Deborah Tannen, sharing her inside knowledge on women's patterns of communication and miscommunication brought to life by entertaining and factual stories based on her interviews with over 80 women from 9-97 years old.  And then in December we celebrated the timeless tradition of holiday tea, an afternoon of festivities, executive conversation, networking and delicious refreshments.  Our next event is a panel discussion in February among 2017 Distinguished Presidential Rank Award recipients, to recognize and celebrate the sustained extraordinary accomplishments of a select group of senior women leaders – career members of the Senior Executive Service.  And there is more to come, including our 45th anniversary event later this year (tentatively May)!
Our EWG Mentoring Program also initiated a new series of events focused on each of the Senior Executive Service Executive Core Qualifications (ECQs).  These sessions, open to all current EWG members, and past and current proteges, allow us to refresh our knowledge on key leadership skills and share related experiences to learn from each other. 
At the swearing in last year, I talked about ensuring we stay true to this organization's foundation – enriching the lives, contributions and opportunities of women senior leaders in the Federal Government and grooming those that will follow.  EWG will continue to be a platform upon which women senior leaders, across all branches of the Federal Government, civilian or military, can flourish.  That is the beauty of this organization – we are helping each other be successful, individually and collectively.
Once again, I am honored and humbled to be part of this team.  I look forward to your feedback on what we are doing right, and how we can continue to improve and strengthen this organization for each of you – our members.