President's Message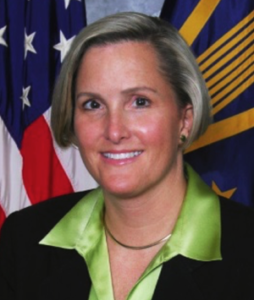 Thank you for attending the swearing in of the new Executive Women in Government (EWG) officers for our 2017-2018 year.  I am very excited to be the new President of EWG and I look forward to working with the other officers, and each of you, in the coming year.  I would also like to thank Kim Berns for her leadership over this past year, and her continued support to the Board.  EWG has been a powerful force for advancing women in senior leadership positions in the Federal Government and collectively we will ensure that legacy continues.
We will have an invigorating year – new friendships, enriching events, and our fourth cohort of the EWG mentoring program that Marilyn Quagliotti founded three years ago.  You can learn more about the mentoring program at Executive Women in Government Mentoring Program.
We are going back to this organization's foundation – enriching the lives, contributions and opportunities of women senior leaders in the Federal Government, and grooming those that will follow.  If you are interested in volunteering, we have many great opportunities for you to make an impact!
Once again, I am honored and humbled to be part of this team, and I look forward to working with all of you over this exciting year to come!
Paige Atkins
EWG President