What an honor it has been serving as your president over the first half of my tenure. Initially, I did not have a lot new to say following taking the reins of leadership along with my fellow officers, but I assure you we have had a lot to do. We have been quite busy designing and reinvigorating our purpose as an organization. We have been attracting new members to come alongside those diligently serving and participating over the recent years.
We have been building a team of volunteers to give flight to our key areas of need as an organization. Your involvement is vital to elevating EWG's profile as an expert voice sought out by the Administration, Congress, and others with the power to implement change. We have set the wheels in motion for an EWG Advocacy Campaign. We have developed a strategy for the how of enabling and implementing an advocacy agenda. The following graphic highlights the main elements.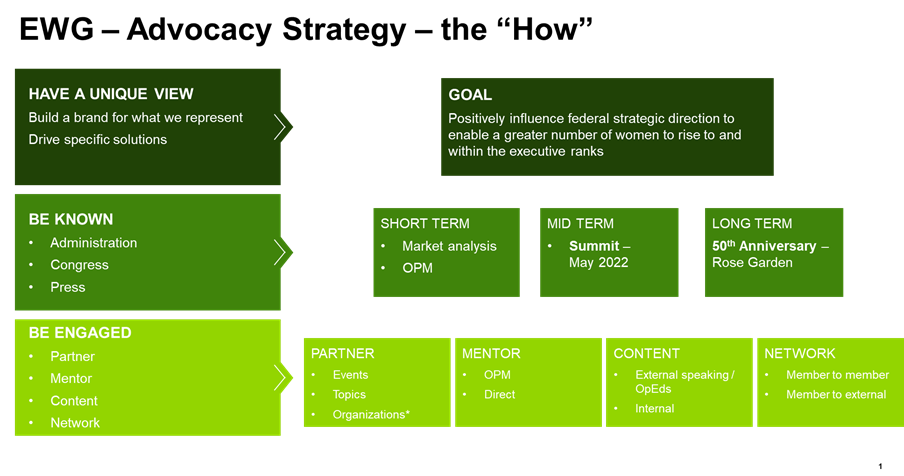 Our next step is to gain a better understanding of our unique value proposition and identify potential partners with aligned interests and programming. Additionally, we desire to gather your insights into the what of our advocacy strategy. Of course, executing our strategy is against the backdrop of coming together as executive, military, and emerging leaders, forging lasting relationships, and enjoying the camaraderie of shared life experiences. Iron sharpening iron!
I look forward to personally meeting you in the months ahead…
Cynthia F. Whittenburg
President, Executive Women in Government