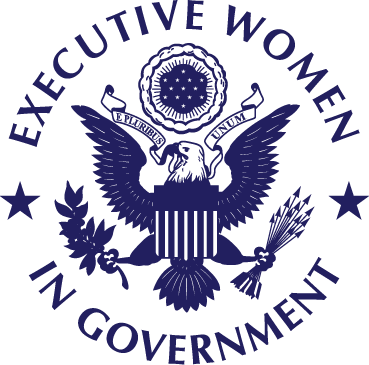 Founded in 1973, Executive Women in Government is a non-profit, nonpartisan organization comprised of Federal Government women executives. Members prepare, promote, and support women for senior leadership positions in the Federal Government and the military through networking, shared knowledge and experience, and mentoring.
PRESIDENT'S MESSAGE
The Executive Women in Government (EWG) has been an important force in the advocacy for and support of advancement of women into federal and military leadership positions. Through its highly acclaimed mentor program, informal leader development activities, and unprecedented networking opportunities, EWG creates amazing opportunities for current and aspiring female senior leaders to share and engage on their most pressing challenges and most inspiring achievements. It is an honor and a privilege to serve as President, and I encourage you to join us as we endeavor to continue to inspire, elevate and support a more diverse and inclusive federal and military leadership cadre.
Dr. Patrina M. Clark, President
OUR MISSION
Prepare, promote, support and mentor women for senior leadership positions in the Federal Government.  Build a powerful network to share experiences, to enhance professional relationships, and to increase understanding among women executives in the Federal Government. Motivate women leaders in the federal government to contribute to effective succession planning by creating a mentoring culture within their sphere of influence.
OUR OBJECTIVE
Advocate for the advancement of women in senior leadership positions in the Federal Government, to include taking a public position on issues related to the purposes and goals of the organization; provide an opportunity to become better acquainted with other professional women in an atmosphere conducive to the constructive exchange of professional ideas; and encourage by collective example and action, interest and participation in public service by other women.
OUR HISTORY
Executive Women in Government was founded in 1973 by the Honorable Barbara Franklin and other high-ranking government Women.
"We, the women in government who were really concerned about the advancement of women, began having meetings.  I was then serving in the White House and was able to arrange meetings there, first in the Roosevelt Room, then as our numbers grew, in larger venues.  After I left the White House we wanted to keep meeting, so we formed Executive Women in Government in 1973 and created by-laws in 1974.  The level of camaraderie and support was astounding.  For us EWG was an anchor, a place to come to share experiences, support one another, and make life-long friendships."
— Honorable Barbara Hackman Franklin
OUR PARTNERS