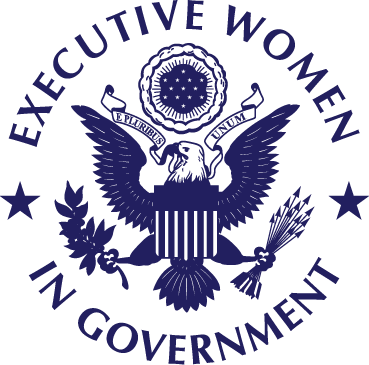 Founded in 1973, Executive Women in Government is a non-profit, nonpartisan organization comprised of Federal Government women executives. Members prepare, promote, and support women for senior leadership positions in the Federal Government and the military through networking, shared knowledge and experience, and mentoring.
2023- 2024 PRESIDENT'S MESSAGE
Greetings All,

Would you take a moment with me to go back and think about when you first learned of Executive Women in Government? For me, it was more than 16 years ago. I had left my executive position at a global manufacturing firm to take a General Schedule (GS) position with the U.S. Coast Guard. I didn't know how to navigate federal employment; I didn't know how to become a federal executive. I needed help. It was then I learned about our prestigious organization and our mission to advocate, support, promote and encourage women in government. I got involved and started collaborating with exceptional leaders. I am truly humbled by the lifelong friendships I've formed through the years. The knowledge I've acquired through experiences serving you, and the furthering of our mission, has helped me grow into the federal executive I am today.

Fast forwarding, with many years of volunteering, learning, and growing, serving in a variety of Board positions, I now come before you as President of our esteemed organization. My Presidential emphasis over the next year will focus on three areas.

Renewing a desire to volunteer because Executive Women in Government is supported by volunteers. I've learned the importance of how volunteering can impact professional careers and influence personal values. Our network, built through service to others, has helped us become the premier establishment that we are today.

Transforming our Digital Footprint for better engagement. We need to institutionalize within our organization a platform that is more responsive and gets relevant messaging out more quickly. Technology will help us ignite our communications and bring innovative ways to perform our mission in a more impactful way.

Renewing our brand to better identify our services and making our connections more obvious. The landscape of the federal workforce is changing but our mission is just as critical today as it was when this organization was first formed 50 years ago. Over the next year, we will showcase successes of our mentoring the next generation of women leaders. We will offer programming opportunities that are fun and engaging with the purpose to motivate participation and awareness of Executive Women in Government.

Now, more than ever, we need your commitment to current and future women leaders. Together, we can bring more exposure to Executive Women in Government through professional and friendly experiences that I imagine we will all draw on for years to come. Join me, Debbie, Carolina, Nina, and the rest of the Board as we make this a reinvigorating year.

---

With great honor and appreciation,
Rhonda Shaffer, President
OUR MISSION
Prepare, promote, support and mentor women for senior leadership positions in the Federal Government. Build a powerful network to share experiences, to enhance professional relationships, and to increase understanding among women executives in the Federal Government. Motivate women leaders in the federal government to contribute to effective succession planning by creating a mentoring culture within their sphere of influence.
OUR OBJECTIVE
Advocate for the advancement of women in senior leadership positions in the Federal Government, to include taking a public position on issues related to the purposes and goals of the organization; provide an opportunity to become better acquainted with other professional women in an atmosphere conducive to the constructive exchange of professional ideas; and encourage by collective example and action, interest and participation in public service by other women.
OUR HISTORY
Executive Women in Government was founded in 1973 by the Honorable Barbara Franklin and other high-ranking government Women.
"We, the women in government who were really concerned about the advancement of women, began having meetings. I was then serving in the White House and was able to arrange meetings there, first in the Roosevelt Room, then as our numbers grew, in larger venues. After I left the White House we wanted to keep meeting, so we formed Executive Women in Government in 1973 and created by-laws in 1974. The level of camaraderie and support was astounding. For us EWG was an anchor, a place to come to share experiences, support one another, and make life-long friendships."
— Honorable Barbara Hackman Franklin
OUR PARTNERS