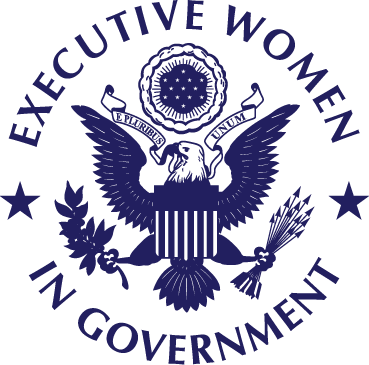 Founded in 1973, Executive Women in Government is a non-profit, nonpartisan organization comprised of Federal Government women executives. Members prepare, promote, and support women for senior leadership positions in the Federal Government and the military through networking, shared knowledge and experience, and mentoring.
2023 PRESIDENT'S MESSAGE
This year marks the 50th anniversary of the Executive Women in Government (EWG). What a significant milestone to reach. Although a lot has changed around us and for us as women as we have served in the executive branch of the Federal government since the Honorable Barbara Hackman Franklin founded the EWG, there remains work to be done. Ms. Franklin's vision was for the EWG to be "an anchor, a place to come to share experiences, support one another, and make life-long friendships." And that remains a solid element of our vision as we tackle the challenges of the day.

It continues to be an honor for me serving as your president. Over the past year we have locked arms with Partnership for Public Service, igniting our advocacy role. EWG members served on a focus group examining women leading in the Federal government, resulting in their "LeadHership" report. We also entered a partnership with Federally Employed Women (FEW). In May 2022, EWG held its annual Leadership Summit in-person, supported by American University School of Public Policy, which was lauded a success in what was a tentative, post-COVID environment. Our hallmark mentoring program notably enhanced 20+ GS-14/15 women's leadership journey. We held a series of in-person networking events to continue the tradition of building lasting relationships that prove to support one another as we persevere through the unique challenges of leading in the Federal government sphere.

Our solid advocacy strategy remains the same; however, in order to move to higher planes and enrich our value proposition, we need your participation as members. Those of us who have been guiding the EWG thus far appeal to our broader membership to give of your talents and gifts to keep our organization vibrant and relevant, especially this year. Recognizing we all are very busy women, it is imperative that we build up our committees to spread the load. If you are looking for a shorter-term commitment, this year we will need volunteers to serve on our 50th Anniversary and Leadership Summit Committees. The bottom line is your involvement is vital to elevating EWG's profile as an expert voice sought out by the Administration, Congress, and others with the power to implement change. What are you willing to do to maximize your relationship with the EWG this year?

I look forward to personally hearing from you and meeting you in the months ahead…

---

Cynthia F. Whittenburg
President, Executive Women in Government
OUR MISSION
Prepare, promote, support and mentor women for senior leadership positions in the Federal Government.  Build a powerful network to share experiences, to enhance professional relationships, and to increase understanding among women executives in the Federal Government. Motivate women leaders in the federal government to contribute to effective succession planning by creating a mentoring culture within their sphere of influence.
OUR OBJECTIVE
Advocate for the advancement of women in senior leadership positions in the Federal Government, to include taking a public position on issues related to the purposes and goals of the organization; provide an opportunity to become better acquainted with other professional women in an atmosphere conducive to the constructive exchange of professional ideas; and encourage by collective example and action, interest and participation in public service by other women.
OUR HISTORY
Executive Women in Government was founded in 1973 by the Honorable Barbara Franklin and other high-ranking government Women.
"We, the women in government who were really concerned about the advancement of women, began having meetings.  I was then serving in the White House and was able to arrange meetings there, first in the Roosevelt Room, then as our numbers grew, in larger venues.  After I left the White House we wanted to keep meeting, so we formed Executive Women in Government in 1973 and created by-laws in 1974.  The level of camaraderie and support was astounding.  For us EWG was an anchor, a place to come to share experiences, support one another, and make life-long friendships."
— Honorable Barbara Hackman Franklin
OUR PARTNERS