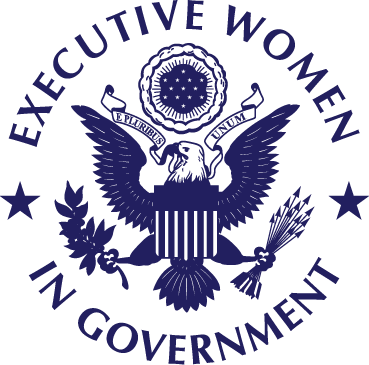 Founded in 1973, Executive Women in Government is a non-profit, nonpartisan organization comprised of Federal Government women executives. Members prepare, promote, and support women for senior leadership positions in the Federal Government and the military through networking, shared knowledge and experience, and mentoring.
PRESIDENT'S MESSAGE
What an honor it has been serving as your president over the first half of my tenure. Initially, I did not have a lot new to say following taking the reins of leadership along with my fellow officers, but I assure you we have had a lot to do. We have been quite busy designing and reinvigorating our purpose as an organization. We have been attracting new members to come alongside those diligently serving and participating over the recent years.

We have been building a team of volunteers to give flight to our key areas of need as an organization. Your involvement is vital to elevating EWG's profile as an expert voice sought out by the Administration, Congress, and others with the power to implement change. We have set the wheels in motion for an EWG Advocacy Campaign. We have developed a strategy for the how of enabling and implementing an advocacy agenda. The following graphic highlights the main elements.

Our next step is to gain a better understanding of our unique value proposition and identify potential partners with aligned interests and programming. Additionally, we desire to gather your insights into the what of our advocacy strategy. Of course, executing our strategy is against the backdrop of coming together as executive, military, and emerging leaders, forging lasting relationships, and enjoying the camaraderie of shared life experiences. Iron sharpening iron!

I look forward to personally meeting you in the months ahead…

Cynthia F. Whittenburg
President, Executive Women in Government
OUR MISSION
Prepare, promote, support and mentor women for senior leadership positions in the Federal Government.  Build a powerful network to share experiences, to enhance professional relationships, and to increase understanding among women executives in the Federal Government. Motivate women leaders in the federal government to contribute to effective succession planning by creating a mentoring culture within their sphere of influence.
OUR OBJECTIVE
Advocate for the advancement of women in senior leadership positions in the Federal Government, to include taking a public position on issues related to the purposes and goals of the organization; provide an opportunity to become better acquainted with other professional women in an atmosphere conducive to the constructive exchange of professional ideas; and encourage by collective example and action, interest and participation in public service by other women.
OUR HISTORY
Executive Women in Government was founded in 1973 by the Honorable Barbara Franklin and other high-ranking government Women.
"We, the women in government who were really concerned about the advancement of women, began having meetings.  I was then serving in the White House and was able to arrange meetings there, first in the Roosevelt Room, then as our numbers grew, in larger venues.  After I left the White House we wanted to keep meeting, so we formed Executive Women in Government in 1973 and created by-laws in 1974.  The level of camaraderie and support was astounding.  For us EWG was an anchor, a place to come to share experiences, support one another, and make life-long friendships."
— Honorable Barbara Hackman Franklin
OUR PARTNERS