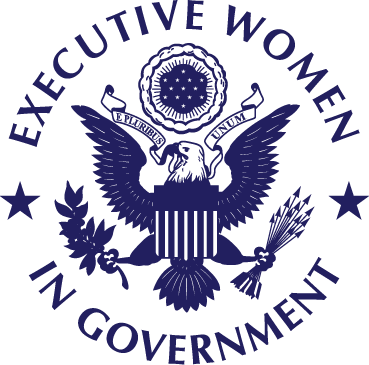 Founded in 1973, Executive Women in Government is a non-profit, nonpartisan organization comprised of Federal Government women executives. Members prepare, promote, and support women for senior leadership positions in the Federal Government and the military through networking, shared knowledge and experience, and mentoring.
PRESIDENT'S MESSAGE
It is an honor to step into the role as the EWG President. It is humbling to accept the role that the Honorable Barbara Franklin established in 1973, when she founded this organization with an important mission: to "prepare, promote, support, and mentor women for senior leadership positions in the Federal Government."

I am grateful to Ms. Ellen McClain, for her contributions of leading our organization during the turbulent times of 2020. Thank you to all former EWG Presidents, Vice Presidents, officers, and board members, and importantly, thank you to all of our EWG members who believe in and support this important work. We are successful because of the contributions of each of you and the wonderful support of The Training Connection and Gibson Dunn; amazing and strong partners in our efforts for many years.

I have been a member of EWG for seven years because I believe we each have a responsibility in helping women achieve their full potential. I had the privilege to serve as the vice president when Shoshana Grove was the EWG president, and I served as the Treasurer under Reta Jo Lewis' leadership.

I am committed to leading EWG to help move more women forward as leaders in our federal government. We, together, will help women shift from aspiring to leadership to developing the confidence to lead and then to being a leader in our federal agencies. With commitment, requires action.

This is a call to action.

With your engagement, we can accomplish much in 2021 to strengthen relationships that are the building blocks for you and your career. We will strive to ensure an environment that provides opportunities to have meaningful engagement with potential leaders. We will continue to create diverse, inclusive, and enriching networking and learning opportunities to move more women into leadership roles in 2021.

The previous EWG leaders have built a strong foundation for us to move forward. As we begin the new year, we begin with a renewed sense of enthusiasm, optimism, and commitment to the advancement of women.

Thank you very much. I look forward to having fun with you in the new year.

Sincerely,
KC
OUR MISSION
Prepare, promote, support and mentor women for senior leadership positions in the Federal Government.  Build a powerful network to share experiences, to enhance professional relationships, and to increase understanding among women executives in the Federal Government. Motivate women leaders in the federal government to contribute to effective succession planning by creating a mentoring culture within their sphere of influence.
OUR OBJECTIVE
Advocate for the advancement of women in senior leadership positions in the Federal Government, to include taking a public position on issues related to the purposes and goals of the organization; provide an opportunity to become better acquainted with other professional women in an atmosphere conducive to the constructive exchange of professional ideas; and encourage by collective example and action, interest and participation in public service by other women.
OUR HISTORY
Executive Women in Government was founded in 1973 by the Honorable Barbara Franklin and other high-ranking government Women.
"We, the women in government who were really concerned about the advancement of women, began having meetings.  I was then serving in the White House and was able to arrange meetings there, first in the Roosevelt Room, then as our numbers grew, in larger venues.  After I left the White House we wanted to keep meeting, so we formed Executive Women in Government in 1973 and created by-laws in 1974.  The level of camaraderie and support was astounding.  For us EWG was an anchor, a place to come to share experiences, support one another, and make life-long friendships."
— Honorable Barbara Hackman Franklin
OUR PARTNERS