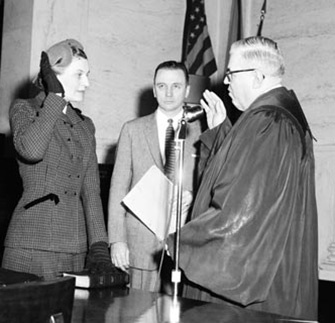 *Supreme Court administers oath of office to Helen Holt in 1957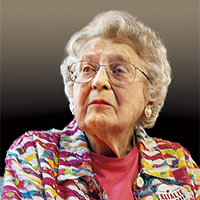 Dear Members of Executive Women in Government,
The memorial service for our esteemed Past President of Executive Women in Government,the Honorable Helen Holt is being held this Saturday, August 15, 2015 at 11:00 a.m. at the National Presbyterian Church , 4101 Nebraska Avenue, NW, Washington, D.C..
Helen was an outstanding member of EWG and was loved by all she touched. She was the first woman to be elected to office in the state of West Virginia, and rose to be Secretary of State. She served with distinction under many Presidents of the United States.
She passed away very peacefully in Florida, at the age of 101. Helen resided in both Washington, DC and Florida.
Members of EWG are encouraged to attend the service and the reception following the service. The reception will be held at National Presbyterian Church immediately following the service. A beautiful floral arrangement has been sent to the Memorial Service in memory of Helen, from Executive Women in Government.
To see her obituary, please click here